Climate Change: Grief, Anxiety, Joy, and Art
This article is a guest post by Ashley Smart, a Ph.D. candidate at UC Davis, and a recipient of the 2020-2021 Bilinski Fellowships at Bodega Marine Laboratory. This blog is featured here because we recognize the need to showcase diverse viewpoints and experiences. The views and opinions expressed in this piece do not necessarily reflect the position of the Institute, UC Davis, or the UC system.
About the Project:
Ashley curated a collaborative virtual art gallery entitled: "Climate Change: Grief, Anxiety, Joy and Art." This virtual exhibit features artwork created by the Bodega Marine Lab community members focusing on the complex emotions that climate change evokes by asking one question, "What do you feel when you think about climate change?" Like climate change, art is transformative, and can document the human experience of the here and now. This exhibit provides a space for BML community members to process these feelings through the creation of art. 
Explore the Gallery: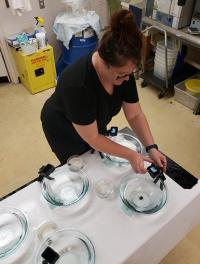 About Ashley:
Ashley Smart is a marine ecologist interested in climate change, ocean acidification, and animal behavior. Her project focuses on understanding why animal behavior (specifically sea slugs and sea snails) changes when they are in more acidic ocean conditions and how this is connected to changes in their nervous system. Ashley is a member of the UC Davis Graduate Group in Ecology.
Primary Category
Secondary Categories