October 25-27, 2018 – Davis, CA
Please join us to celebrate the life of Susan Williams, Distinguished Professor, and faculty member of the Department of Evolution and Ecology and the Bodega Marine Laboratory of UC Davis.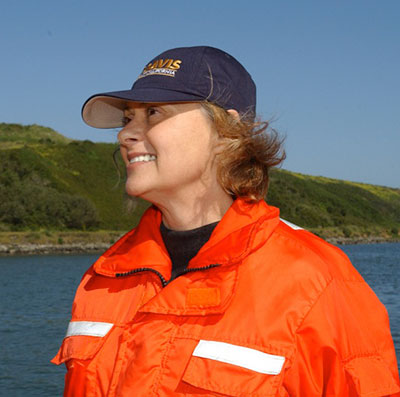 Registration for this event is now closed.
Hotel reservations in Davis are still available, and typically range $150-200/night
Parking area next to International Center is available for (paid) parking. See map here.
Thursday, 10/25 
UC Davis International Center Lobby
6:00-8:00 pm Welcome Reception - Light refreshments & appetizers will be served
Friday, 10/26 
Celebration of Susan's Science & Impact
UC Davis International Center Multipurpose Room
Parking area next to International Center is available for (paid) parking passes
9:00-9:30 am Arrival, registration, coffee, tea & light breakfast
9:45 am Opening Remarks
10:00 am Session I: Public Engagement & Policy

Chair: Jay Stachowicz, UC Davis
Rosamond Naylor, Stanford University
Christine Sur, U.S. House of Representatives, Rep J. Huffman
Frank Mars, Mars Incorporated
Maria Brown (via video), Greater Farallones National Marine Sanctuary
Dan Howard, Cordell Bank National Marine Sanctuary

​​11:30 am Lunch
1:00 pm Session II: Seagrasses & Seaweeds

Chair: Megan Dethier, Univ of Washington
Randall Hughes, Northeastern University
Brent Hughes, Sonoma State University
John Bruno, University of North Carolina at Chapel Hill

2:30 pm Session III: Invasive Species

Chair: James Carlton, Williams College
Cascade Sorte, UC Irvine
Don Strong, UC Davis

4:00 pm Break
4:30 pm Celebration of Susan's Life
5:30 Appetizers & drinks
6:00 pm Dinner
​
​​Saturday, 10/27
Day Trip to Bodega Marine Laboratory
8:30 am Buses depart UC Davis
10:30 am Arrival at Bodega Marine Laboratory
10:30-12:00 am Susan's Impact on BML
12:00 pm Music, Lunch & Stories
1:00 pm Bodega Marine Reserve Guided Tours
2:30 pm Buses depart BML for UC Davis (approximate arrival, 5:00 pm)
We thank the following for support of this event:
UC Davis College of Biological Sciences
UC Davis Office of Vice Chancellor of Research
UC Davis Department of Evolution & Ecology
UC Davis Global Affairs
Bodega Marine Laboratory
Coastal & Marine Sciences Institute
Catering by Rossi Catering, Rob Venditti, and Cherrise Hannon, Bodega Marine Laboratory