September 16-17, 2019
Watch recordings of the talks here >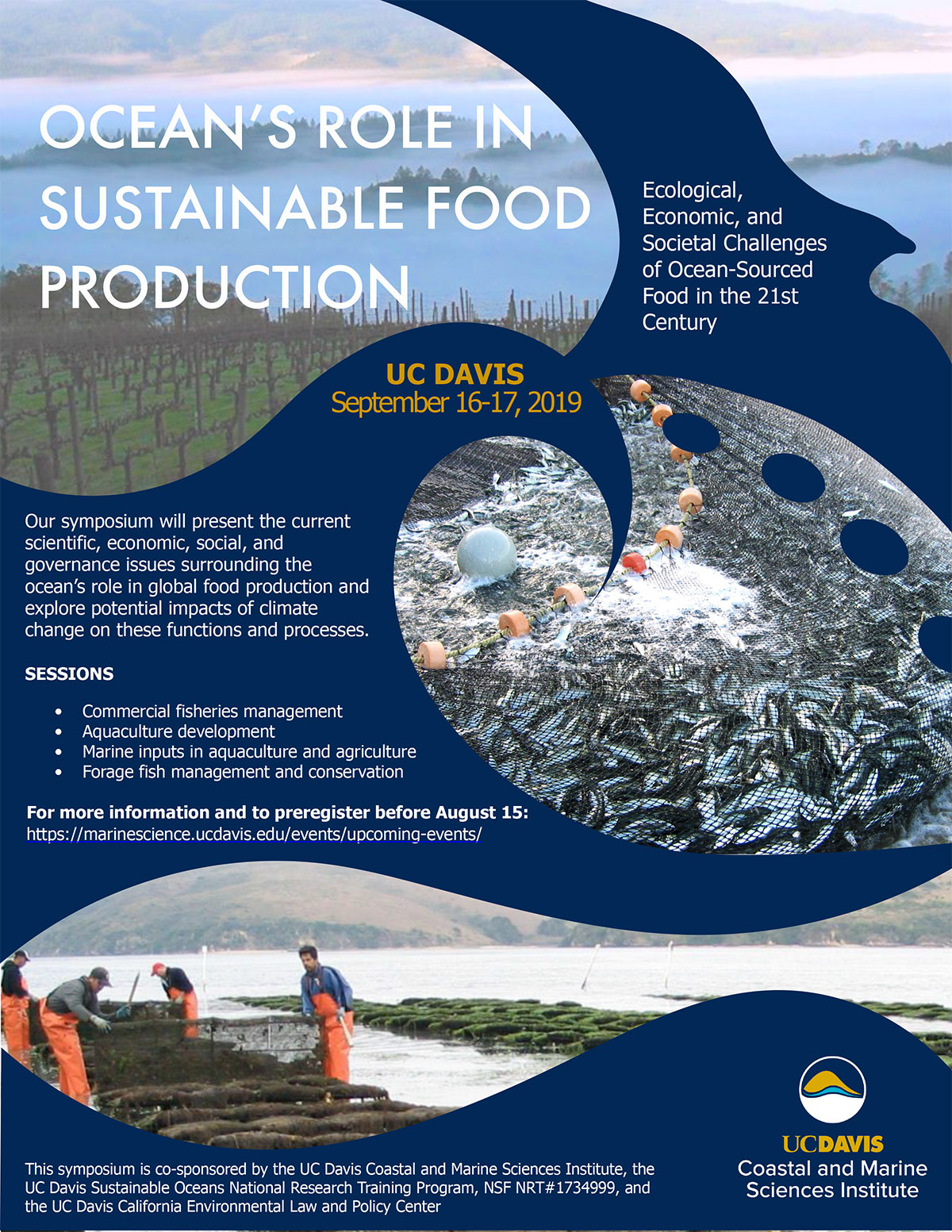 The Robert Mondavi Institute 
Silverado Vineyard Sensory Theater
392 Old Davis Road
Davis, CA 95616
Parking: $10
Our symposium will present the current scientific, economic, social, and governance issues surrounding the ocean's role in global food production and explore potential impacts of climate change on these functions and processes.
Sessions
Commercial fisheries management
Aquaculture development
Marine inputs in aquaculture and agriculture
Forage fisheries management and conservation
Schedule
September 16
8:00-9:00 am - Registration, coffee and light refreshments
9:00 - Introductions
9:15-10 Keynote
Cisco Werner, Director of Scientific Programs and Chief Science Advisor for NOAA Fisheries
10:00-10:15 - Break
10:15-11:45 - Commercial fisheries management
Kiva Oken, Postdoctoral Researcher, NOAA Northwest Fisheries Science Center and University of Washington School of Aquatic and Fishery Sciences. UC Davis Assistant Professor Fall 2019
Matt Reimer, Associate Professor, Institute of Social and Economic Research, Department of Economics and Public Policy, University of Alaska Anchorage. UC Davis Associate Professor Fall 2020.
Laurie Richmond, Associate Professor, Environmental Science and Management, Humboldt State University
12:00-1:00 pm - Lunch
1:15-1:45 - Keynote - Jared Huffman, U.S. Representative for California's 2nd Congressional District
1:45-2:00 - Break
2:00-3:30 - Aquaculture development
James Anderson, Professor and Director, Institute for Sustainable Food Systems, Food and Resource Economics Department, University of Florida
Tori Spence McConnell, Senior Aquaculture Scientist, Monterey Bay Aquarium Seafood Watch
Jackson Gross, Cooperative Extension Aquaculture Specialist, Department of Animal Science, UC Davis
Break 3:30 - 3:45
3:45-5:15 - Marine Inputs in Agriculture and Aquaculture
Albert Tacon, CEO of AquaHana LLC
Luke Gardner, CA Sea Grant Extension at Moss Landing 
Frank Asche, Professor, University of Florida Department of Fisheries and Aquatic Sciences, College of Agricultural and Life Sciences
5:15-6:30 - Reception
September 17
8:30-9 am - Coffee and light refreshments
9:00-10:30 - Forage fisheries management and conservation
Tim Essington, Professor and Associate Director, School of Aquatic and Fishery Sciences, University of Washington
Tessa Francis, Lead Ecosystem Ecologist, Puget Sound Institute, University of Washington
Joshua Abbott, Associate Professor, School of Sustainability, Arizona State University
10:45-12:00 - Sustainable Futures panel I: Fisher, Community, and Tribal Perspectives
Anna Neumann, Commercial Fisher
Sherry Flumerfelt, Executive Director, Monterrey Bay Fisheries Trust
Eliza Ghitis, Climate Change Scientist, the Northwest Indian Fisheries Commission
12:00-1:00 - Lunch
1:00-2:15 - Sustainable Futures panel II: Coexistence of Commercial Fisheries & Aquaculture
Martin Smith, George M. Woodwell Distinguished Professor of Environmental Economics, Duke University
Elsa Galarza, Economist, former Minister of the Environment, Peru
Dick Jones, President and CEO, Ocean Outcomes
2:15-2:45 - Meeting wrap-up
This symposium is co-sponsored by the following:
The UC Davis Sustainable Oceans National Research Training Program NSF NRT Grant # 1734999.