Supporting Marine Science Undergraduates Through Flexibility, Agility, and Inclusivity
The 2021-22 academic year brought UC Davis students back to campus, and a new set of challenges and opportunities for the Marine and Coastal Science (MCS) major Lead Mentor. Meghan Zulian, a doctoral student in the Ocean Climate lab at UC Davis & Bodega Marine Laboratory, is tasked with mentoring, teaching, and guiding the undergraduate MCS majors through this year. In a previous blog we explored the impacts of last year's mentorship program, led by Ph.D. candidate Priya Shukla. Now, Zulian is excited to build on the foundation built by Shukla and expand the program in new and exciting directions.
Adjusting to changing circumstances
Having the flexibility to pivot quickly in response to the student's interests and needs has been a vital part of tailoring the mentorship program to fit the needs of current students. In the 2020-21 academic year, mostly juniors and seniors signed up for the three courses taught by then lead mentor Priya Shukla, but this year there's a fairly even mix of first, second, third, and fourth year students. As a result, they're asking different questions, bringing different perspectives and experiences with them, and heading into a different job market than last year's students. This year's class also includes international students, who often have unique sets of questions and challenges that they'll encounter. As an international student herself, Zulian hopes to be able to leverage her own experiences to help them navigate processes that can be particularly challenging for international students.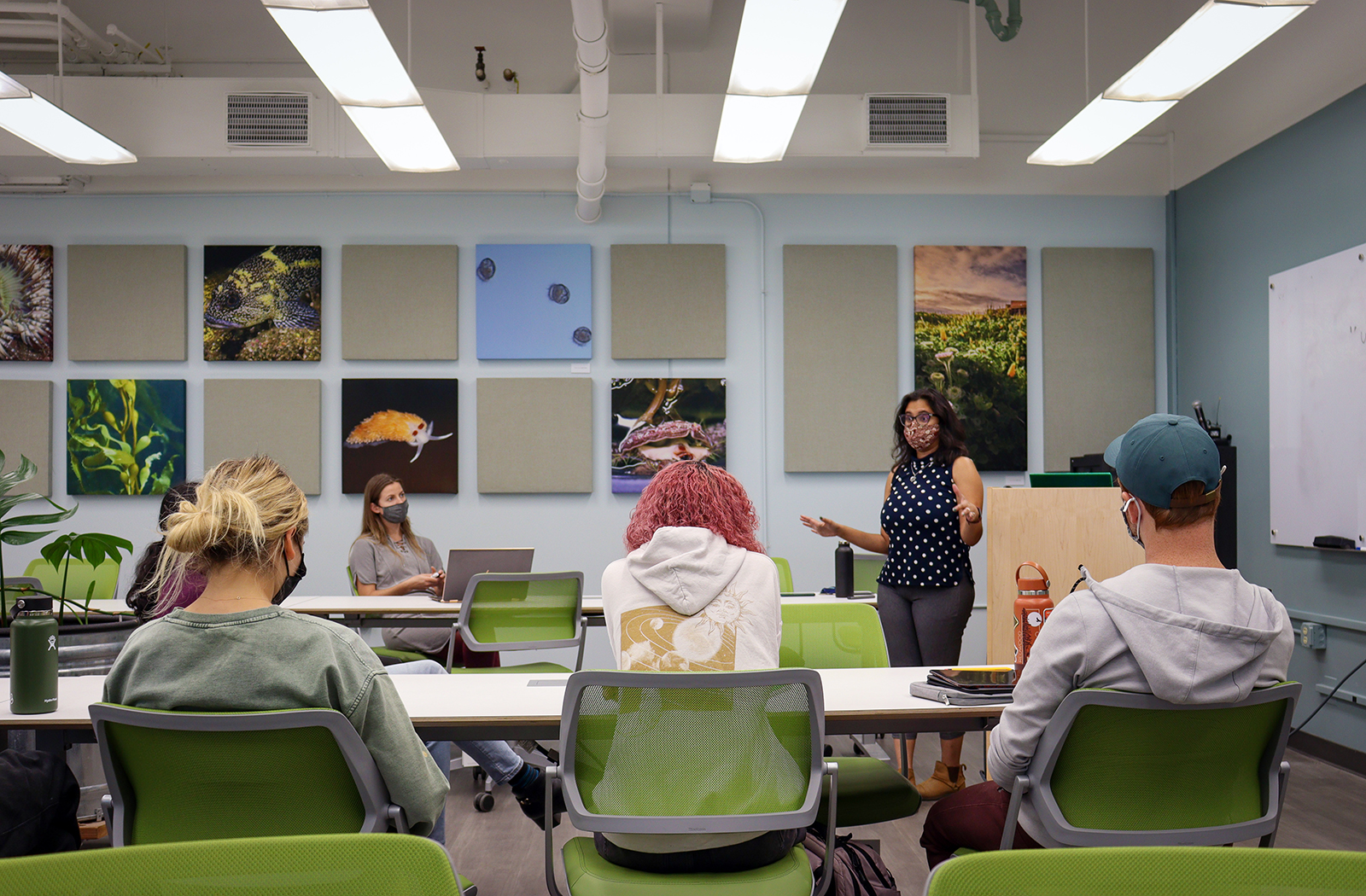 Unique Opportunities
For example, Zulian quickly picked up on the class's interest in and inexperience with scientific conferences and worked with Dr. Carole Hom, CMSI's Program Consultant, and Dr. Anne Todgham, CMSI's Associate Director of Academic Programs, to give them firsthand experience at a conference. Together, they were able to fully fund an opportunity for the entire Fall Professional Development class to attend the Western Society of Naturalists 2021 virtual conference. Having the opportunity to actually attend a conference at this point in their education is a truly eye-opening experience, and is financially accessible for many departments to do.
Going Beyond to Bring More People In
In building on this year's program, Zulian emphasizes the importance of "not limiting ourselves to what we've done, but exploring people and places beyond that." For her, this means making sure we're not missing out on brilliant people who can make a difference, and just need some guidance and mentorship to get there. This is part of what drives her to leverage this position to go beyond just the MCS major, or even UC Davis, to help students with a passion for marine science succeed. So many institutions don't have the funding and time to make this kind of mentorship program happen, and Zulian wants to ensure that many of the workshops, panels, and resources created for this program are available to anyone interested in the marine and coastal sciences.
One way Zulian is bringing this vision to life is by building and fostering relationships with community colleges in the area. By reaching out with personalized messages, building new relationships, and strengthening the existing relationships built by MCS major advisor Mandy Rousseau and by Shukla in her role as the MCS Lead Mentor last year, Zulian hopes to encourage more students to pursue their interest in the marine sciences as eventual transfer students or by taking part in some of the internship programs at UC Davis available to community college students.
Primary Category
Tags