How CMSI's Lead Mentor Supports Marine Science Undergraduates
"Overall, this was an incredibly rewarding experience that opened my eyes to the creativity and organization involved in program management, while also demonstrating to me how truly enjoyable and invigorating mentorship is."

-Priya Shukla
About the Program
Undergraduate students often feel enormous pressure to figure out their careers during their time in college. And the variety of career options out there can make this task even more daunting, especially once it becomes apparent that further education via graduate school is also an option. To help students navigate this challenge, mentoring programs designed to prepare students for careers in their field have cropped up on college campuses, including several at UC Davis. CMSI launched one such program, stewarded by the Lead Mentor (a graduate student), to cultivate a sense of community within the Marine and Coastal Science major, to enrich students' experience with professional development, and to connect students with mentorship and work experience opportunities. 
"A goal of CMSI is to build a community of engaged early career marine scientists. One critical piece is a network of mentors to ensure our undergraduate students have many opportunities to understand and explore all that marine science has to offer. Our Lead Mentor is an important part of this network, demystifying graduate school, scientific research and the career opportunities in marine science."

- Anne Todgham, CMSI Associate Director of Academic Programs 
Ph.D. candidate Priya Shukla was at the helm of this program for the inaugural year of this position. She notes that "The 2020-2021 academic year was unusually challenging due to the COVID-19 pandemic, continuous waves of reckonings with social injustice, and the purely virtual nature of our work. It was daunting to launch a new program in this climate, but I learned so much from this experience."
She adds "I am the first child of Indian immigrants and did not have a marine science career mold that I could easily follow or an established mentorship structure I could rely on. So, it was such a pleasure to develop resources about demystifying the process between undergraduate coursework and post-bachelor's degree career options, improving the students' sense of community, and providing support to marginalized scientists within the MCS program. And, spending time with bright, curious undergraduate marine scientists in our virtual classroom was an energizing and restorative weekly event in a truly tough year. Overall, this was an incredibly rewarding experience that opened my eyes to the creativity and organization involved in program management, while also demonstrating to me how truly enjoyable and invigorating mentorship is."
Professional Development, Seminars, and Careers
Priya developed three courses in the 2020-2021 academic year that catered to undergraduate students: a professional development course (Fall 2020) dedicated to developing skills (from understanding academic culture to interviewing jobs); career discovery seminar (Winter 2021), which exposed students to people who held different careers within the field of marine science; and journal club (Spring 2021), a course that paralleled the spring seminar series and gave students opportunities to practice reading scientific papers that the seminar speakers authored and then meet with the speakers in a small-class setting.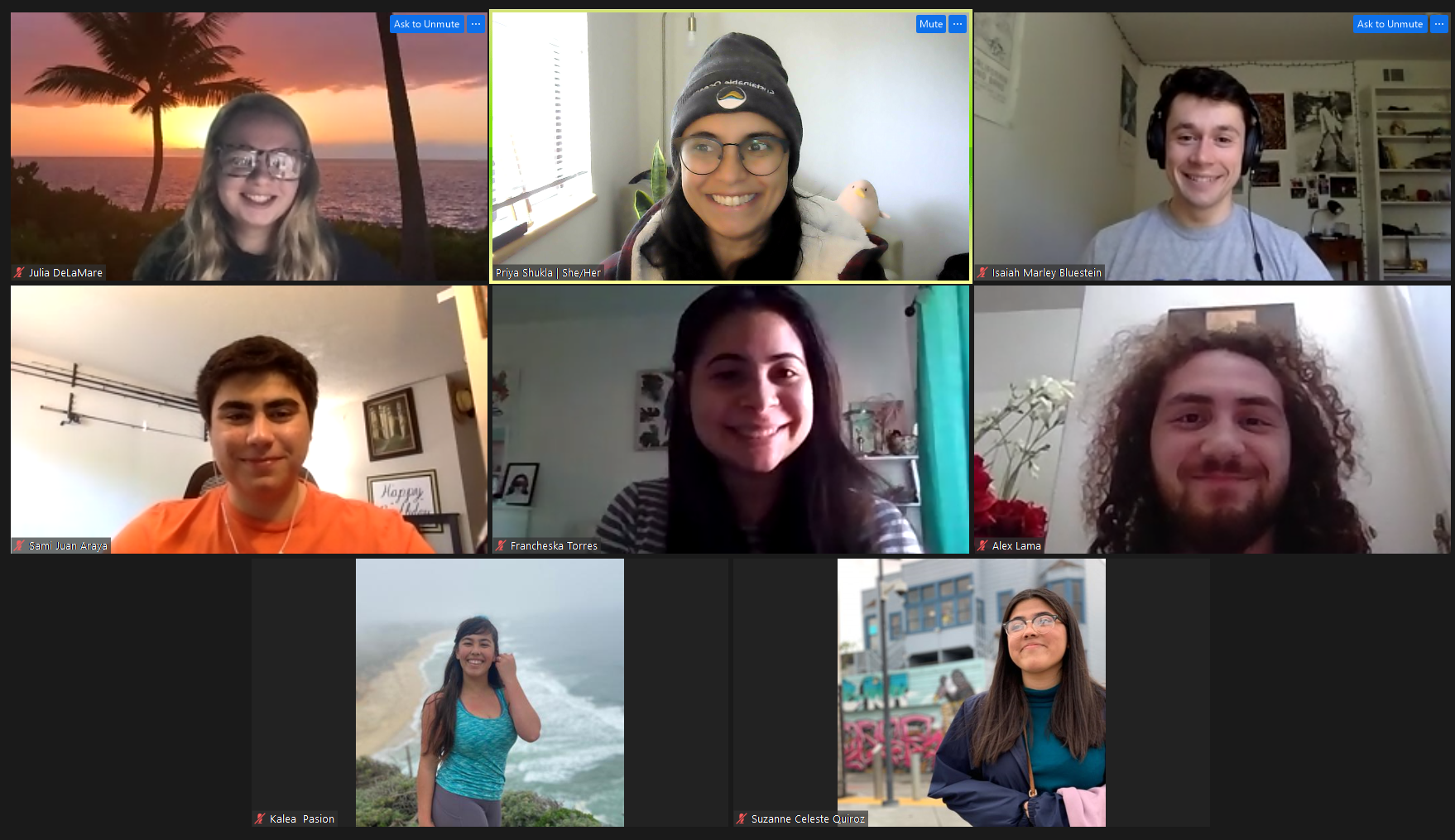 By utilizing her expertise to write lectures on a variety of topics and capitalizing on her network to invite guest speakers to join the students throughout the year, Shukla was able to create engaging and transformative content that addressed the needs of all three classes. In fact, the notebooks she designed for reflection on discussion topics for the Winter and Spring quarter seminars have since been adopted by other classes and programs on the UC Davis campus.
"This course has inspired, encouraged, and educated me more in one quarter than any other class has ever done. Truly an essential experience for aspiring ocean scientists."

- student feedback from the Career Discovery Seminar
Building Connections, Collaborations, and Information Hubs
Beyond building coursework for the Marine and Coastal Science major, part of Shukla's role as Lead Mentor was the creation of opportunities for undergraduates to connect with graduate student mentors. Shukla recruited undergraduate and graduate students for the program and made compatible mentor/mentee pairs. The teams participated in training sessions curated by Shukla and checked in with each other often, offering much-needed familiar faces and guidance during a challenging year of virtual studies.

She also connected with the Marine Science Club, a student organization that brings together a broad and diverse group of students who are passionate about the ocean. Together, they worked to increase ocean literacy by hosting outreach events on and off-campus and providing educational opportunities to the greater Davis community. To better connect students to research at UC Davis, Shukla also helped to develop a collaborative database of research opportunities that is shared by the environmental science programs on campus.
"The Lead mentor's advice and guidance were invaluable. Priya Shukla's careful and thoughtful mentoring throughout the year facilitated establishing a robust club framework that we are confident will echo through the years as the organization continues to thrive."

- feedback from the Marine Science Club
One of Shukla's biggest goals for this position was the creation of an information hub where future generations of marine scientists can find guidance, resources, and information that will help them along their journey. From funding to internships to careers and the often confusing culture of science and academia, the resulting website, ucdcmsi.github.io/mcs-resources, is a lasting asset that future Lead Mentors will expand upon.
Passing the Torch
As the 2021-2022 academic year kicks off, we've welcomed a new Lead Mentor to this position. Ph.D. Student Meghan Zulian worked with Priya throughout the summer to ensure a seamless transition and is settling into her role as the Lead Mentor for the new academic year. Zulian plans to build on the foundation built by Shukla and expand the program in new and exciting directions. In the next installment of this blog, where we explore the specific challenges and opportunities Zulian is encountering during her time as the MCS Lead Mentor.
Primary Category
Tags