Testing The Waters: My First Splash into Research
Zoe Ruffatto is a 3rd year SRJC Biology major intending to transfer to a four year university in 2025. She is passionate about learning and wants to pursue a career in some area of biological research.
---
I never imagined myself doing anything in the marine sciences. Despite growing up near the coast, ever since I saw what my younger self referred to as a 'monster' in a river on a camping trip, I have been a bit wary of the water. So how did I end up as an intern in a marine laboratory? It was all part of my quest to, in this case literally, 'test the waters' in different areas of biological research. I am a third-year SRJC biology major with the dream of a career that allows for lifelong learning. The way I describe my interests to those who ask is that I am 'a little too interested in a few too many things'. So, the chance to get my first research experience this summer at Bodega Marine Lab absolutely thrilled me, even though it meant that I might end up having to face my fears a bit.
I spent my summer getting experience in both field and lab work with my mentor Lily McIntire and got to design my very first research project with Lily's help. My project aimed to begin looking at the reason that crabs blow bubbles when they are removed from the water. Since Lily's work involves temperature, I was interested to see if they blew bubbles when they got too hot to help them evaporatively cool, which is one of the possible explanations for this phenomenon. Coached by Lily, I designed an experiment with five temperature treatments, each with five grumpy, pinchy participants. The crabs were all held at roughly 100% humidity to reduce the chance that they were blowing bubbles to aerate their gills. I recorded their temperature and whether they were bubbling at 10-minute intervals 7 times for each of five temperature treatments. Lily and I found that although the temperature treatments were statistically different from each other, meaning that variation in bubbling between trials would be due to temperature, not random chance, there was no statistically significant difference in bubbling frequency between treatments. Although these results might seem like a failure, they truly were not. Lily reminded me throughout the experiment, that "no results are still results". And by the end of the experiment, I really did believe her. Getting to create an experiment and having my own data to analyze helped me see all the ways that my results would be useful in the future. Because of my pilot study, when Lily wants to control bubbling in her future experiments, she would now know that at higher humidity, crabs don't tend to bubble even when heated.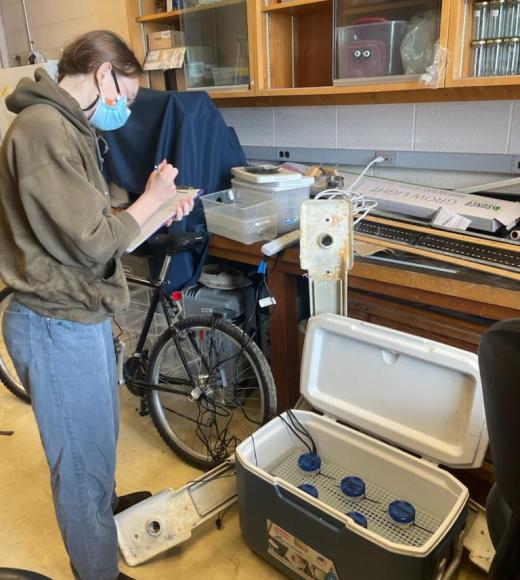 Not only did I get my first lab research experience this summer, but I also got to see first-hand what field research looks like. And no, I did not end up having to face any fears, nor did I see any new 'monsters'. I felt surprisingly comfortable out in the intertidal with Lily by my side. Before this internship, when I thought of research, I thought of lab work. In my head, research involved sterile environments, Petri dishes, running experiments, and cell cultures; things that involved manipulating something and watching the response. I did not realize the extent to which simply observing and recording data about one's study species in the field is an integral part of research. When out in the field with Lily, we would start the day with 'crab walks' where we would traverse a section of her field site and record the temperatures and habitats of the crabs we saw. We never tried to catch the crabs, we just noted where they were and took an average temperature. The goal was to interact with them as little as possible. Although we were collecting data, it wasn't in the way I had always thought data was gathered: in a lab setting. It was very valuable for me to see how, especially early in a research project, you often do very little to manipulate what you are studying and still end up with important data.
Overall, I think had a very unique internship experience, because not only was I just beginning my research journey, but my mentor was also at an early stage in her project. This meant that I got to see the steps that need to be taken to start a research project and was able to gain an appreciation for how much effort goes into organizing and planning a project. Considering that I see myself in a career that involves research and have an immense passion for learning, this was the perfect introduction to my future. I am leaving this summer experience with my first piece of research under my belt and a fabulous support network of scientists at Bodega Marine Lab. Who knows, maybe I will end up in the marine sciences after all!

---
Want to learn more about the SRJC-BML Internship Program?
Visit the SRJC-BML Internship Program Website
You can also show your support for this program by making a gift.
Primary Category
Tags