Every few years the Bodega Marine Laboratory hosts "Meet the Scientists" Open House, recently held Saturday September 13, 2014. This event showcases the latest research in marine science. The public is invited to visit research labs, talk with scientists, and enjoy hands-on demonstrations.
Open House is an occasional event. Dates for the next Open House TBD. Please check back for future dates, or sign up for the BML Event announcements mail list.
What visitors had to say about Meet the Scientists Open House 2014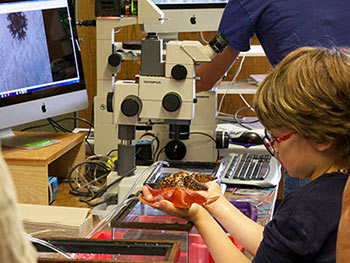 "Anyone lucky enough to visit the UC Davis Open House at Bodega Marine Lab today was in for an afternoon that was truly fascinating as it was rare - the last open house, I am told was nine years ago! The campus, situated on several hundred acres is generally closed to the public. People of all ages were free to roam the many labs staffed by lots of enthusiastic younger scientists. With plenty of powerful microscopes on hand to look through along with A/V displays, charts and various sea life containers, it was all very interactive and presentable. It was a real honor to be able to meet with our next generation of marine scientists who were very gracious with all those visitors. The docents and the shuttle drivers were all terrific as well. How about having an open house every Leap Year at least?" - Stephen Burgess, Santa Rosa
"Great! The students were great at presenting, explaining, answering questions, and helping with hands on activities. More hands on activities especially for children and youth. As an adult I like them too!" "Absolutely Fantastic! Everyone I came into contact today was quivering with passion and intelligence, and eager to share their knowledge. I can't begin to say how thrilled I am with today. A real gift."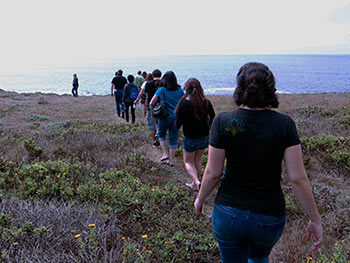 "The 'wharf' upgrade in the perch tank is super cool! Thanks for the touch tank creatures." "Fabulous staff. My granddaughters loved it!" "Absolutely Fabulous. Young and seasoned scientists informative, helpful, pleasant, excellent!!!"
"Especially loved the wet labs and outdoor tour."
"Our family loved racing the plankton!! GREAT IDEA/ACTIVITY"
"People were very interested in what they did. If I were young this would be a place I'd like to study" "Nice to be around so much brilliance, inspiration and education. Thanks! Kudos to everyone!"