Mussel Shells and Shipwrecks
I am a fourth year biology student at SRJC, transferring to SSU. I am interested in studying ecology and evolutionary biology, and I was initially interested in working with BML through this internship to see if research and academia is something I would want to pursue as a career.
---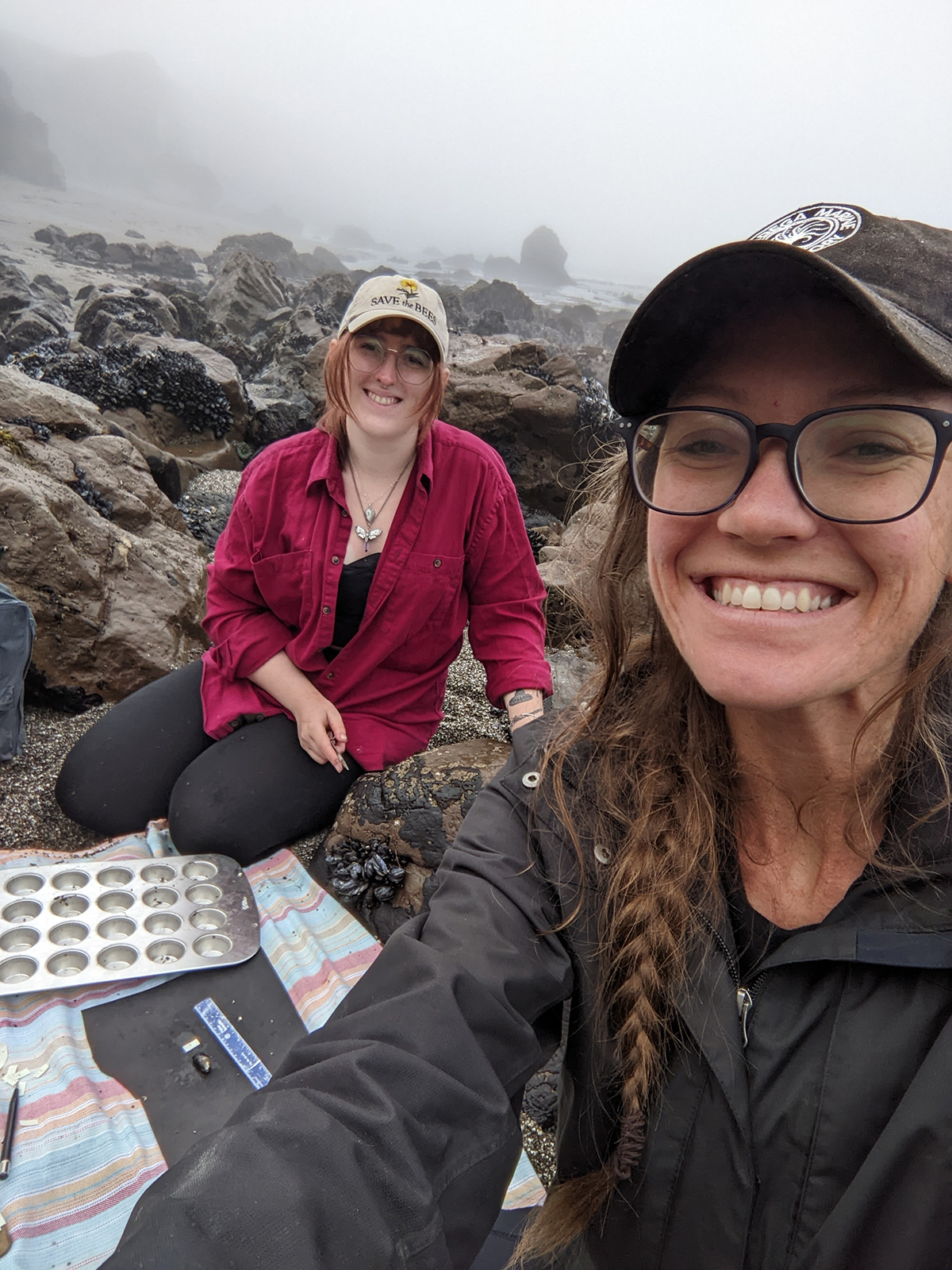 This summer I had the wonderful opportunity to work with the Bodega Marine Lab through the SRJC internship program. I was assigned to work with Alisha Saley of Gaylord lab, and I would love to share a little bit of my experience working with her this summer.
Alisha is a phD candidate at BML, studying shell-building organisms and how they interact with chemical environments. Specifically, she has been looking at shell dissolution caused by a lower ocean pH due to atmospheric carbon dissolving into the ocean. Research has posited that the outermost organic layer of many marine mollusks, called the periostracum, can aid in preventing dissolution. Alisha has been working on projects showing the relationship between periostracum and shell dissolution, so what we did this summer is explore what kinds of abiotic factors can affect periostracum coverage in the coastal mussel species Mytilus californiunus. 
We hypothesized that abiotic factors that cause the shell to dry out, such as a high tidal height or lots of sun exposure, will have a negative impact on periostracum cover. We conducted a pilot experiment in Marshall gulch, where we collected mussels from multiple tidal heights and multiple degrees of sun exposure. Then we used a program called ImageJ to calculate the percentage of periostracum cover for each group. Our results did confirm our hypothesis, and the lab is hoping to conduct more follow-up experiments for this project in the future.
This summer, Alisha also introduced me to John Harreld, founder of the non-profit organization, SCHUNRS, whose mission is to educate about our maritime cultural heritage through historical research and maritime archaeology. I was tasked by John and Alisha to write a blog post going into detail about the history of one of the local shipwrecks, the Maggie Ross, that met her final resting place up near Jenner. I was provided with a document full of news clippings and statistics about the Maggie Ross' life, and was meant to turn all of this raw data into something that was captivating and interesting to read. It was very enlightening to be able to take myself back in time and delve into the tumultuous life of this ship.
There is so much more I would say about my experience this summer, but I will end by saying I am so very grateful to be given the opportunity to work with BML and SCHUNRS. Alisha has taught me so much about field work and research that I will be able to take with me into my academic and professional endeavors in the future, and I am honored to have been able to work with so many brilliant individuals
---
Want to learn more about the SRJC-BML Internship Program?
Visit the SRJC-BML Internship Program Website
You can also show your support for this program by making a gift.
Primary Category
Tags