Bodega Marine Laboratory Graduate Student Priya Shukla Wins UC Davis Dissertation Year Fellowship
Stress can test our limits to the utmost and, sometimes, it can push us to become more resilient than ever before. From the Bodega Marine Laboratory to the oyster flats of Tomales Bay, exploring how stress builds resilience has been at the heart of Priya Shukla's research for the last several years. She is compiling a doctoral dissertation focused on how we might teach some species to tolerate warmer waters and in essence, "climate-proof" them against shifting temperatures.
Shukla is a Ph.D. candidate working with Dr. Ted Grosholz in the Groslholz Lab at Bodega Marine Laboratory (BML) and Dr. Colleen Burge in the Shellfish Health Laboratory at BML. She is also part of the Coastal and Marine Sciences Institute (CMSI), the Department of Environmental Science and Policy, and a member of the Graduate Group in Ecology. Her research focuses on disease outbreaks in oysters and, in partnership with local growers at Hog Island Oyster Company, she is working to determine if exposure to certain kinds of stress can help oysters better withstand disease.
Recently, Shukla was awarded a UC Davis Dissertation Year Fellowship. This award will provide financial support during the last year of her dissertation, which Shukla hopes to complete by August of 2023. For Shukla, this fellowship feels like "a stepping stone that, as I pull the story of my dissertation together, and also put together my own story and what I've taken away from my Ph.D. and how I'm going to bring those offerings into the world and into whatever I do next." Support like this is a gift that gives students valuable time to focus on finalizing their dissertation writing. This fellowship offers an additional benefit: a travel stipend to visit either a CSU or a different UC campus to present her research, which comes as an exciting and welcome bonus for Shukla as we move into a new phase of the pandemic that allows for more in-person interaction and networking with colleagues.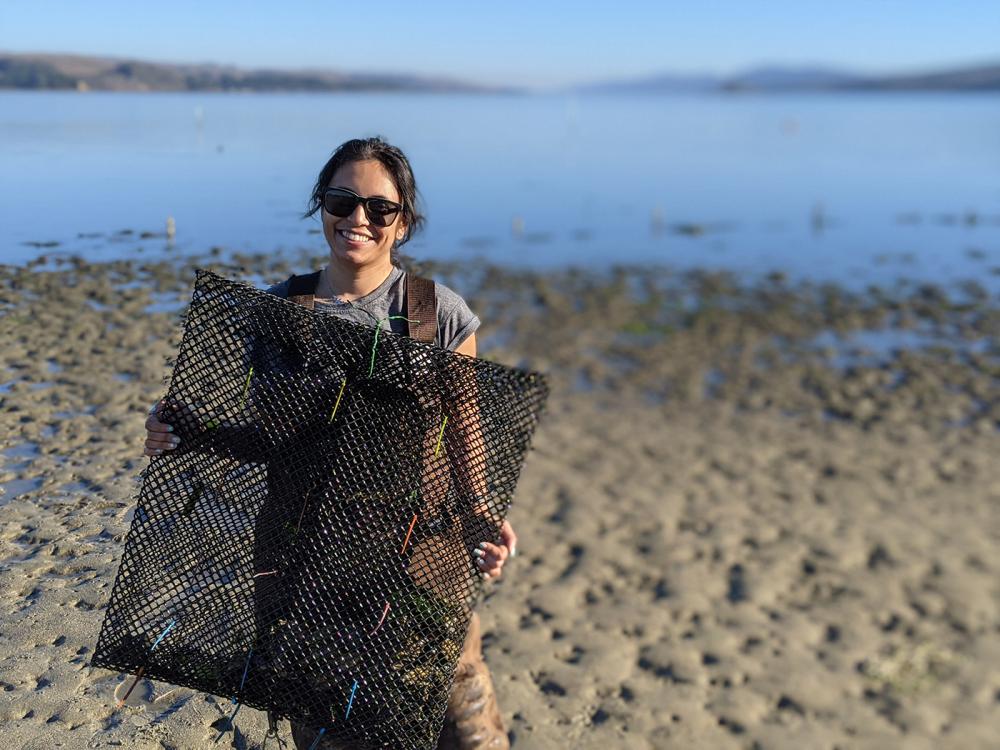 Science and Solutions
Shukla completed her undergraduate studies at UC Davis, where she first discovered that she wanted to pursue a career as a marine scientist. In 2011, she graduated and set off to work in other institutions, having no idea that she would later return to Davis to work, and then complete her Ph.D. After completing a Master's degree focused on ocean acidification at San Diego State in 2015, Shukla returned to UC Davis, working at the Bodega Marine Laboratory as the Lab Manager for the Bodega Ocean Acidification Research (BOAR) Group. This hands-on experience brought with it the realization that although she'd done extensive research and writing about ocean acidification for her Master's thesis, she hadn't yet put her work into practice. Being a lab manager transformed all of that. Shukla says,
"I got to see that you could do that work where the rubber meets the road, but you could also advance the frontier of knowledge, which is what the whole point of science is. So I made it my goal for my Ph.D. to make sure that I was doing knowledge-advancing science, but with the explicit intent of it being solutions-oriented in some capacity."
Science Communication and Mentorship
One of the ways that Shukla connects science with solutions is as a science communicator and mentor. As a writer for Forbes Science and Currently, a panelist and interviewee featured on Going Green with Al Roker and KQED Science, among others, and an avid Twitter user (@priyology), she is no stranger to using her knowledge and experience to build a dialogue about science that everyone can be part of. Recognizing that conversations around sustainable aquaculture and climate change are not just about education, but are also an important opportunity to engage communities, Shukla also focuses her efforts on amplifying marginalized voices and perspectives.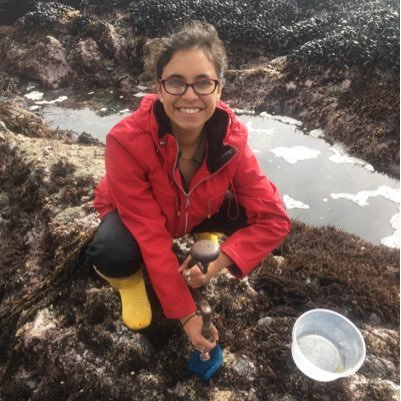 Shukla's communication skills were put to the test when she accepted a position as the first Lead Mentor for the Marine and Coastal Science Major in the UC Davis Coastal and Marine Sciences Institute for 2020-21. Reflecting on that year spent creating resources, teaching classes, and mentoring students was one of Shukla's favorite parts of applying for the UC Davis Dissertation Year Fellowship. This pivotal role allowed her to see up close the impacts that she was able to have on students. She recalls that it allowed her to "bring together my story, pull out the things that I thought were really useful, and share it with other people", which was impactful for the students and for herself. While smoothing the path for them to advance and succeed in the marine sciences, Shukla also found herself inspired by their enthusiasm for ocean science and their endurance in continuing their studies even in the midst of a worldwide pandemic. She hopes to be able to pay that gift forward in the future by creating opportunities to support and inspire others in the ways she has experienced.
Stress Testing: Oyster Boot Camp
To better understand the impacts of climate change on farmed oysters, Shukla has worked closely with Hog Island Oyster Company throughout her Ph.D. Oysters are particularly susceptible to disease outbreaks in the summer when waters are warmer. This led Shukla to question whether we can better equip oysters to withstand warmer temperatures in general and insulate them against some of the impacts of climate change. Hog Island has a storied history of working with scientists. That legacy, combined with Shukla's experience working with them during her time as lab manager for the BOAR Group, led to an ongoing partnership between scientist and stakeholder.
Using oysters donated by Hog Island, Shukla has tested whether oysters who have been exposed to heat stress can maintain better health once they go out into the field and experience exposure to diseases. She describes this method as an
"oyster boot camp that I run at the Bodega Marine Lab. So, for two weeks, these oysters are put under stress. They experience heat or they experience tide kind of for the first time because before this they're getting pampered up in Humboldt at a nursery where they can feed to their heart's content and the growers are giving them a lot of care and attention that they don't get once they go in the field."
As a midpoint between being pampered to being out in the field, Shukla's oyster boot camp gives these young oysters a chance to acclimate and adapt to a harsher environment that may help them stay healthy even after they're exposed to disease. 
Because oysters are an excellent source of protein and vitamins and oyster aquaculture has relatively few negative environmental impacts, this research has the potential to greatly benefit both oyster growers and oyster consumers, and these benefits hold a lot of promise for bringing Shukla's vision of a dissertation that generates applicable, science-backed solutions to fruition.
Primary Category
Tags