Increasing Understanding of Ecological Function to Continue Conserving Our Biodiversity
Kevin Sanchez is a SRJC biology student interested in all things involving science
---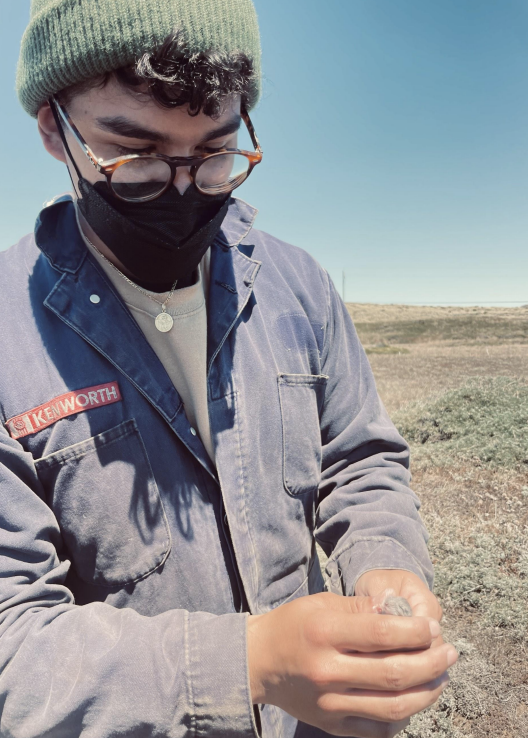 Greetings reader, my name is Kevin Sanchez and I am a SRJC biology student interested in all things involving science. I have always had a great love of science and this summer I was able to work on the Bodega Marine Reserve with my amazing mentor Luis Morales, a PhD student studying ecology.
This summer exceeded my expectations and was without a doubt a memorable experience for the many opportunities available.  Arriving on the first day I was nervous while simultaneously filled with a rush of excitement to learn more. I met Luis shortly after who I found would speak passionately about what he does on the reserve as a steward. A large portion of what Luis does is managing invasive species found on the reserve. This short introduction was followed by a very methodical plan to begin removing a perennial invasive species Holcus Lanatus (H. Lanatus). A plan was established based on several factors minimizing disturbance of other native species, careful consideration to the plants life cycle and a method that was most efficient. Once out in the field I saw velvet panicles shimmering under the sunlight that is best described as a sea of H. Lanatus. While manually pulling out the invasive species we got the chance to record data as well as map our findings to track its growth. Due to being classified as a perennial species this plant can resprout from the basal shoots further only temporarily solving the issue. This is a drawback, but it is a consideration that needs to be factored into every approach made to manage an invasive species. This is just one of the several invasive species that we had to manage which made me curious about what other methods we could approach given the potential negative and positive outcomes
Furthermore, after gaining more experience I was able to individually work on removing a different invasive species Briza Maxima (B. Maxima). Unlike H. Lanatus, B. Maxima is an annual plant that dies in one season, but its removal is still important to be done before seed drop. Thus, B. Maxima is just as important because it is well known to disturb native species by competing for nutrients.The best method to manage this species is mechanical and chemical such as use of herbicides yielding a recorded efficacy to be >95%. Though this is effective there are still other methods which I would enjoy to explore including biological control and different use of herbicides. There is very little research that has been made in biological control because it can disturb other desired species, however B. Maxima is not just an issue that affects our reserve; it has been recorded in New Zealand, Japan, Honduras, Guatemala, Hawaii, Chile and Colombia. Perhaps investing more time in biological control can prove to be an effective method for the different landscapes found in these other areas. Regardless of that it will take some of the mystery out of what could have occurred if we do not test its capacity.
As a final note, it is clear to me that what may appear like a small change is in reality a mountainous impact when it comes to the ecosystem. Bodega Marine reserve was no walk in the park, but through these challenges it gave me a deep appreciation for the work it takes to maintain our native species. I am looking forward to working on similar projects or any science projects where people are passionate in what they do as I continue my educational journey.
Special thanks to the BMR and BML team for guiding us and exposing us to new opportunities, including Keira Monuki, Isabelle Neylan, Luis Morales and Collin Gross my deepest gratitude. 
---
Want to learn more about the SRJC-BML Internship Program?
Visit the SRJC-BML Internship Program Website
You can also show your support for this program by making a gift.
Primary Category
Tags