The Return To Fieldwork
Even in the most unusual of times, the importance of research remains.
Four UC Davis students in the marine sciences recount the very different ways in which their research has been affected by the pandemic and how they are cautiously resuming critical and time-sensitive fieldwork under unique circumstances.
Click or scroll to see each student's story:
Ben Rubinoff, Ph.D. Candidate, Graduate Group in Ecology
Maddy Frey, Undergraduate Student in the Marine and Coastal Science Major
Priya Shukla, Ph.D. Candidate, Graduate Group in Ecology
Leah Mellinger, Graduate Student in Animal Biology
---
Ph.D. Candidate, Graduate Group in Ecology
I learned of the severity of the global pandemic while in the middle of a research fellowship in Panama. I had to choose between staying in Panama with fewer resources, waiting for the pandemic to end, or returning to California and abandoning the months of challenging field research I had just completed. This was an extremely difficult decision to make, but I'm glad I chose to return home to California. If I would have stayed in Panama, I would have been stuck there indefinitely (my flight was one of the last ones out of the country). I'm upset to have had to pause my project in Panama, but I plan on returning next year with my field methods perfected, if travel to Panama is permitted.
Ending my project in Panama early has allowed me to start focusing on the data I have collected, and I am writing up the first chapter of my dissertation to submit as a manuscript by the end of summer. In this process, I have realized that there are some additional field data that would help improve the story of my second chapter. As such, I've designed a scaled-down field experiment this summer with COVID-19 in mind. 
About Ben's Project:
I study how environmental stress influences species interactions and filter-feeding invertebrate communities. This summer, I am examining how filter-feeding invertebrate communities are affected by predators at different stages of community development inside and outside of eelgrass. This research develops on my previous research that has found an effect of predators on community composition at this site (Sacramento Landing, Tomales Bay, CA). While I have found an effect of predators, I don't know when the effects of predators are most important (young or old communities) and who the predators are. Through a series of predation exposure experiments, I will be able to measure predation intensity and effects on filter-feeding invertebrates. To identify which predators are most important, I am deploying GoPros when exposing plates to predators to capture footage of predation in action.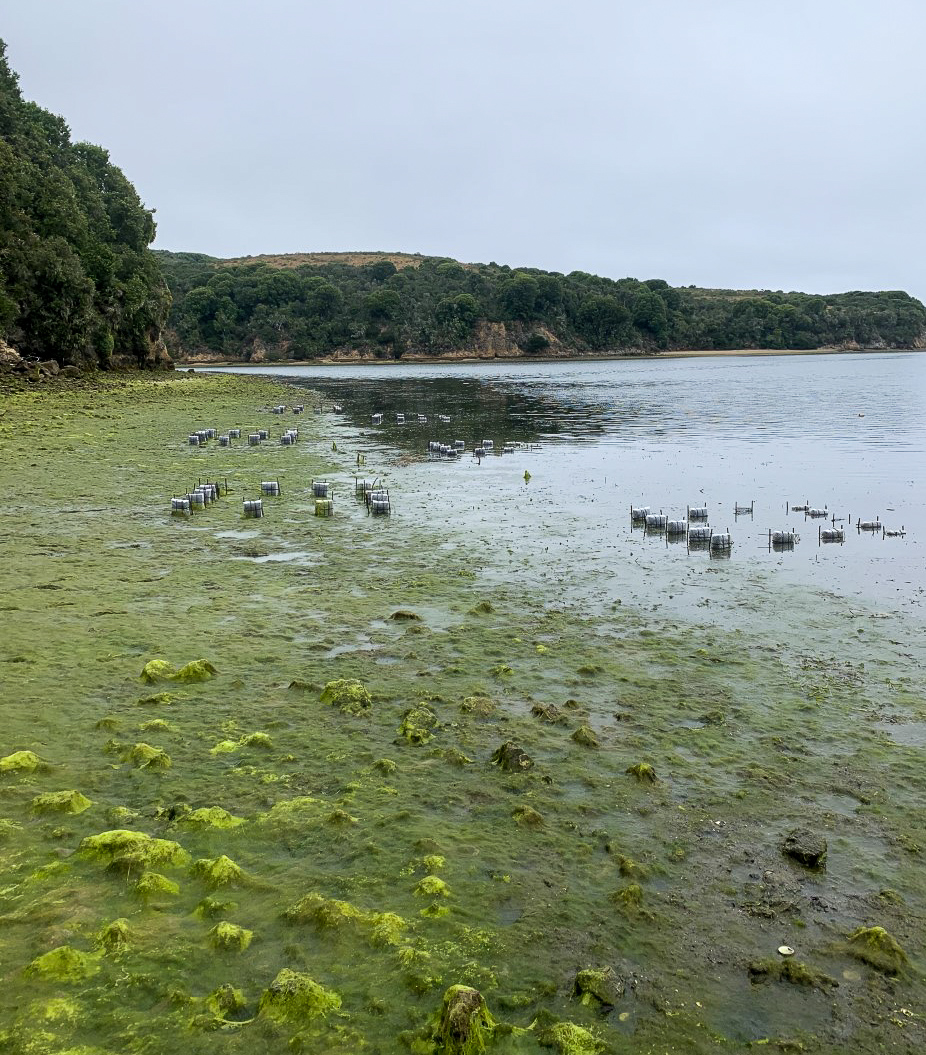 Most of my field research allows for social distancing since one person is calling out data while the other person is recording it. Since I'm unable to mentor an intern this summer (no in-person mentoring is allowed), I have been relying on the help of other grad students, technicians, friends, and my partner in collecting the last pieces of essential data for my dissertation. It's been very rewarding to help other students with socially distanced fieldwork in return for some help with my own! As a field ecologist, I constantly have to balance research with safety, and the decisions I made to return home and continue with socially distanced research here allow me to still complete my dissertation on time while reducing my risk and exposure to COVID-19.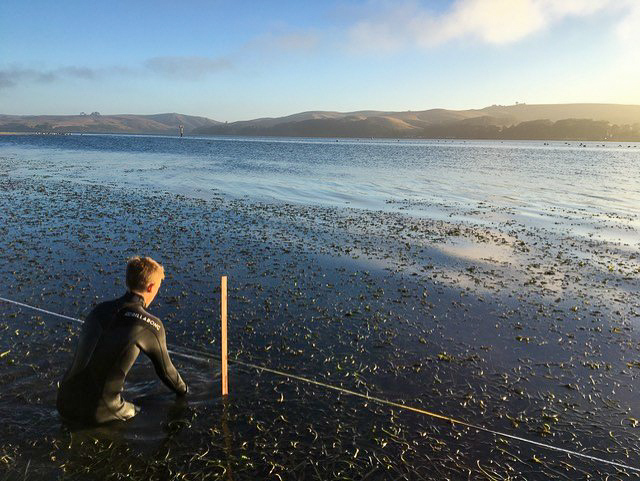 ---
Undergraduate Student in the Marine and Coastal Science Major
Maddy Frey, an undergraduate student in the Marine and Coastal Science major in the UC Davis Coastal and Marine Sciences Institute, returned to fieldwork at the Bodega Marine Reserve this month as part of the UC Natural Reserve System's Field Science Fellowship. This fellowship provides financial support for undergraduate students conducting research in the field at one of the 41 reserves in the Natural Reserve System. In between expeditions into the field, we caught up with her for a quick virtual interview about her research: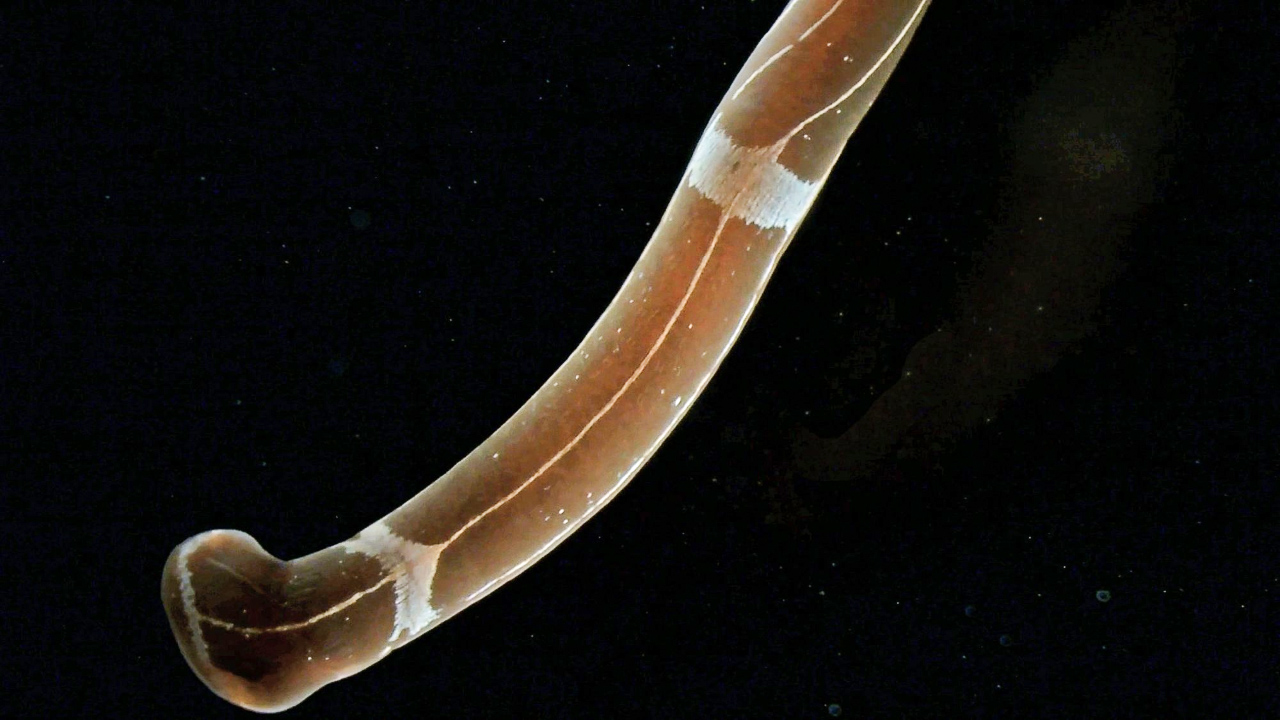 Maddy's project aims to quantify the hidden diversity of Nemerteans (ribbon worms) in the Bodega Bay region. She, and others, believe that there may be 2 to 3 times the number of species in the area than currently known. 
"My advisor (Dr. Eric Sanford) and I both love exploring the incredible diversity of the California coast, but understanding baseline diversity is also extremely important in a time when environmental conditions are changing around us." Frey explains "If we don't know what lives around us, we will struggle to see shifting populations or protect vulnerable ecosystems. Plus, it's amazing to see new things, including the discovery of several species new to science!"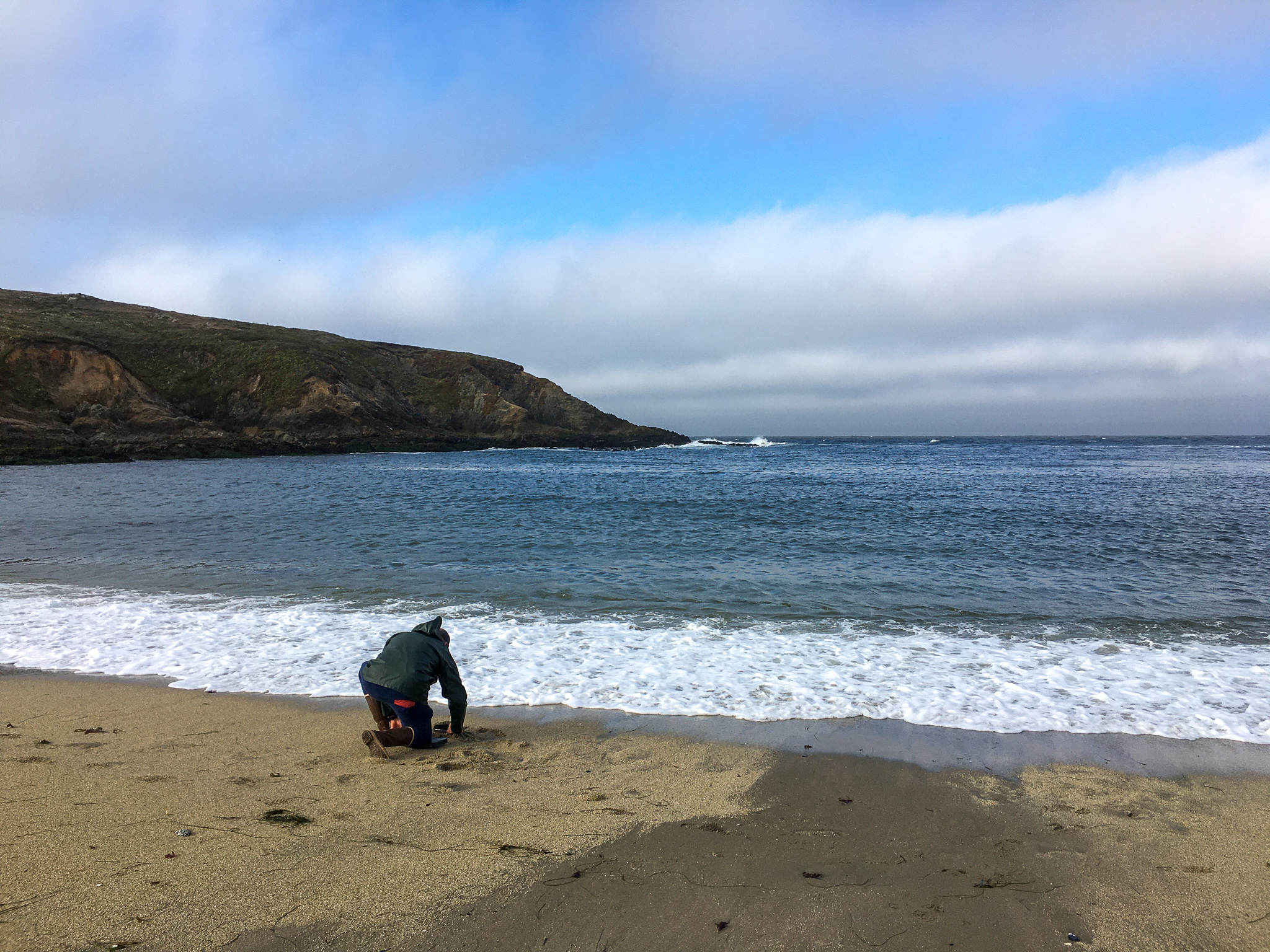 Although returning to fieldwork in the midst of a pandemic is challenging, this project needed to be completed during an 8 week period, and this was the only available opportunity for her to do so prior to starting her final year before graduation. By following UC Davis' Field Work Safety requirements for COVID-19, though, she's been able to gather the data she needs to complete this time-sensitive project safely.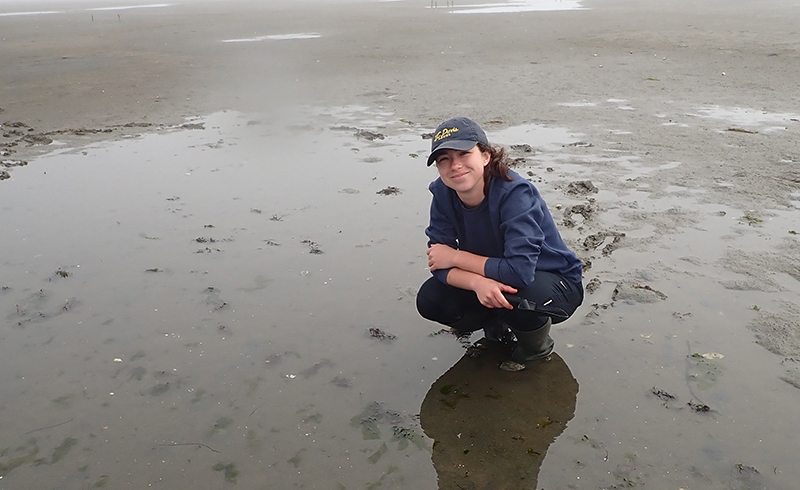 ---
Ph.D. Candidate, Graduate Group in Ecology

As a graduate student researcher in the middle of the pandemic, I am experiencing anxiety about how this will affect me and my loved ones, uncertainty about the future, and guilt when I prepare for fieldwork when favorable tides are expected. Doing research right now is hard – not only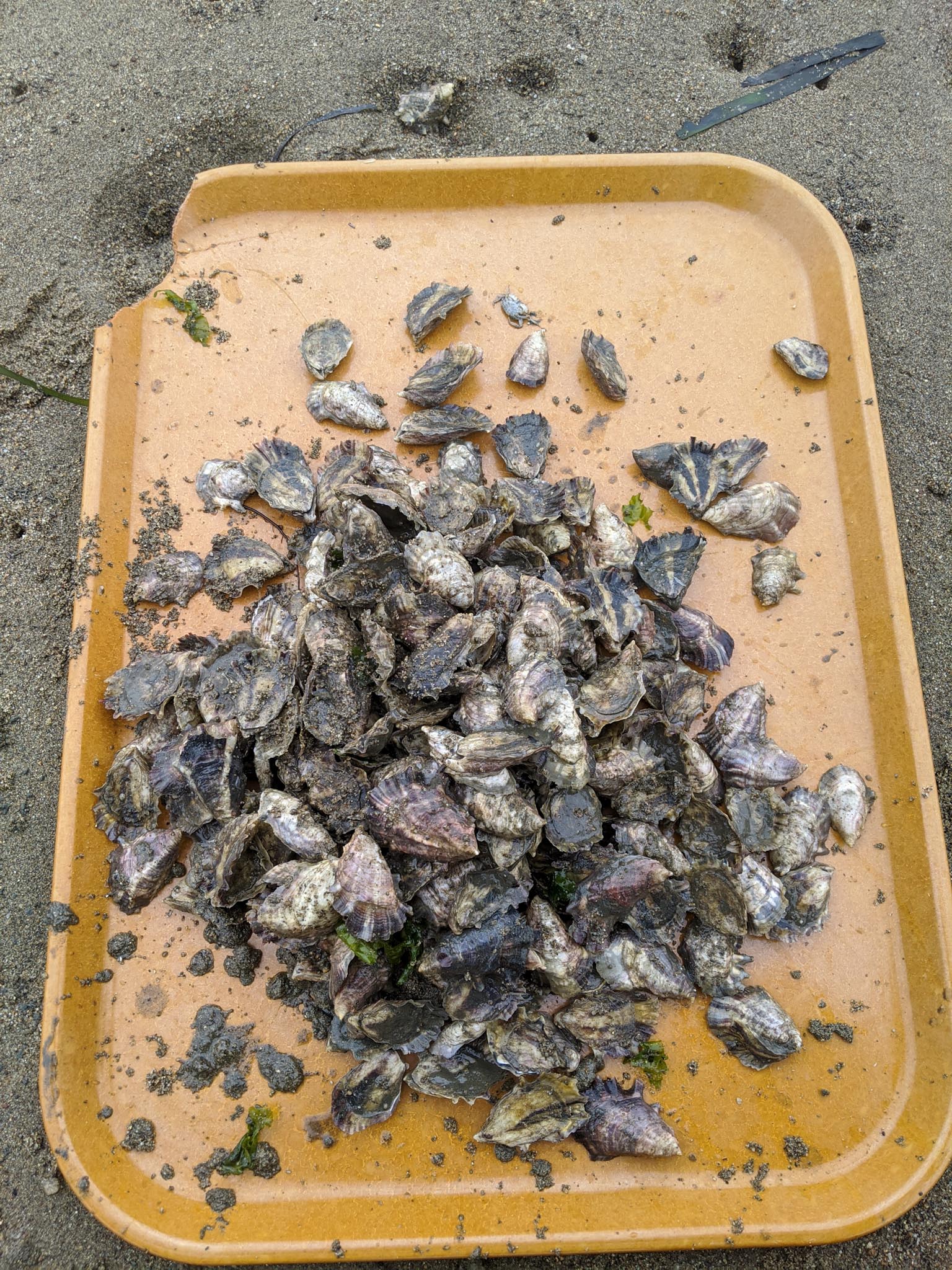 because the pandemic makes things logistically difficult, but also because it can seem like a trivial endeavor while we are in the midst of a public health crisis. However, my research is also highly relevant - focuses on how climate change is affecting temperature-associated diseases that the shellfish farming industry in California grapples with. Climate change has not paused during the pandemic, and it seems ever more important to explore ways to protect this industry – already affected by our current economic crisis – from other factors that could compromise their productivity.
To ensure that my research is not adding to the burden this pandemic imposes, I go to my field sites alone (with a contact who knows my whereabouts) or with my husband, who has proven himself to be an incredibly helpful field hand. Although my research started a few months later than I had planned, I was able to deploy this experiment when the seawater is quite warm, so I may still be able to observe any disease outbreaks that the oysters experience. While devastating for the oysters, this could serve to inform the industry (and me!) about how we might help the oysters become more resistant to such outbreaks in the future. 
Make sure to follow the UC Davis Unfold Podcast and listen for an upcoming episode with an interview of Priya by Amy Quinton. The interview was conducted in the field, from a distance, while Priya worked on this research.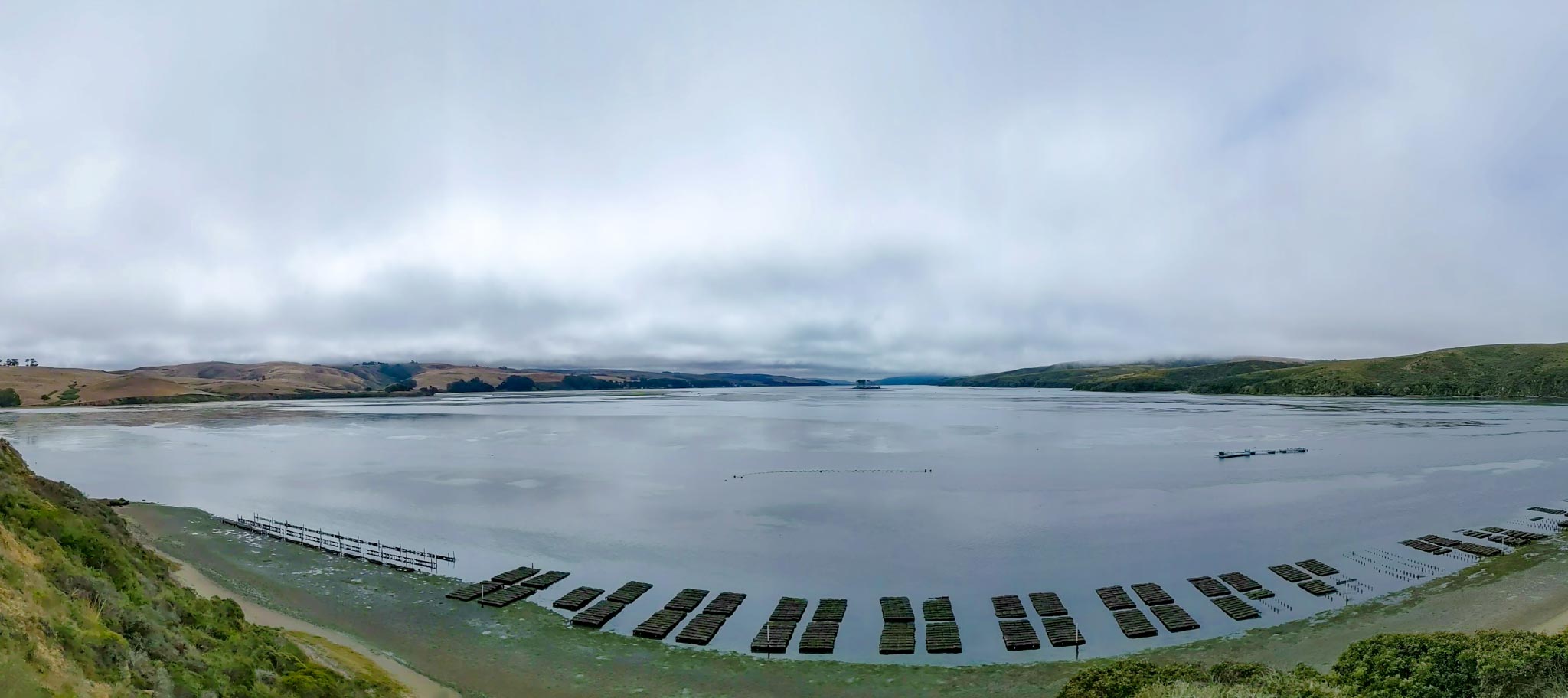 ---
Graduate Student in Animal Biology

Leah Mellinger is a Ph.D. student, NSF Sustainable Oceans NRT Fellow, and California Sea Grant Graduate Research Fellow who is studying how fish respond to environmental stressors ranging from biotic (such as parasites and pathogens) to abiotic (such as poor water quality and toxicants). She is currently working on two projects related to how juvenile Chinook salmon experience the rivers during outmigration in order to better understand the reasons behind mass mortality and poor numbers reaching the ocean. One of her projects is on juvenile spring-run Chinook salmon survival on the San Joaquin River. By sampling juvenile salmon from exposure cages along the outmigration route, Mellinger is able to analyze the sublethal stresses, pathogens, and immune responses of the salmon.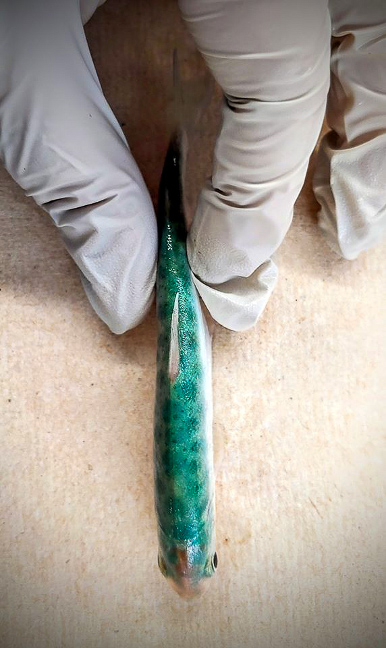 This project was funded by Delta Science Council and was a collaborative effort between NOAA, USFWS, DWR, UC Davis (Fangue Lab and Rypel Lab), CDFW, and the San Joaquin Hatchery.
The second project is aimed at understanding how different Chinook salmon brood stocks (Iron Gate fall run and Trinity spring-run Chinook salmon) tolerate the pathogen Ceratonova shasta (C.shasta) and how exposure to C.shasta affects outmigration success and smoltification in the Klamath River. This study was conducted at Oregon State University's (OSU) Aquatic Animal Health Lab (AAHL). At AAHL, the brood stocks were exposed to C.shasta for different lengths of time to mimic conditions within Klamath river after hatchery release, and then simulated outmigration of the main channel of Klamath river to the Pacific Ocean.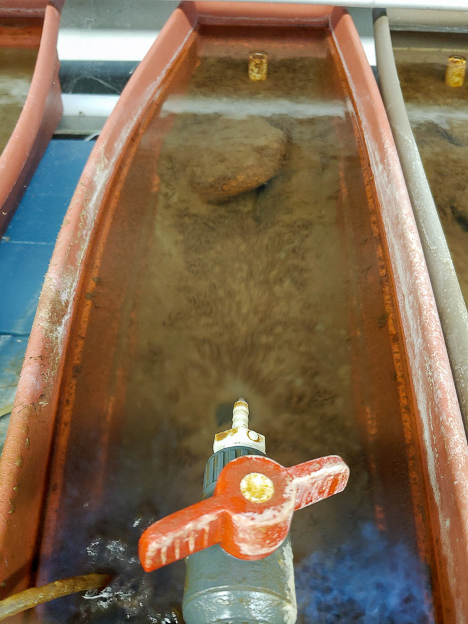 This project was funded by NSF Sustainable Oceans NRT, CA Sea Grant, and the Yurok Tribe Educational Department and was a collaborative effort between NOAA, USFWS, OSU (Bartholomew Lab), UC Davis (Fangue Lab and Todgham Lab), CDFW, ODFW, Yurok Tribe, Karuk Tribe, Hoopa Valley Tribe, Trinity River Hatchery and the Iron Gate Hatchery.
Leah's work is mostly in remote areas that don't require large teams of people, which allows them to minimize the risk of unnecessary exposure. The remote nature of this work, coupled with adherence to federal, state, and UC Davis guidelines of quarantining, wearing face masks, social distancing, hand washing, sanitizing vehicles and equipment, and keeping working groups small, has allowed them to continue work uninterrupted throughout the pandemic. This is very good news for the species she works with, which are of great concern commercially and ecologically, and the research she is conducting which, if paused, could set recovery efforts back several years.
"It always feels good to be on a boat in the sun and doing the work I love." Mellinger says, "It was a little difficult in the beginning navigating the new restrictions and regulations, but in following them we have maintained the safety of our lab mates."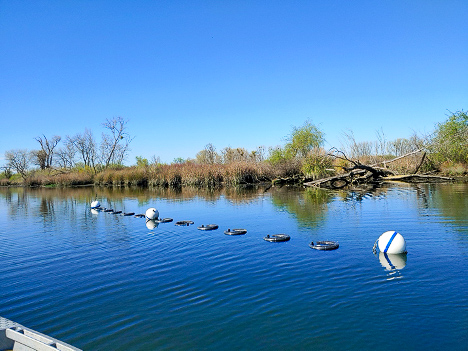 More Resources from UC Davis about COVID-19:
Primary Category
Tags